Training and Pre-Race
My friend Tristan and I both had less than satisfying results at Ironman Wisconsin in September 2021, and I was still on the road trip home to VA when he identified the Houston marathon as a possible target for the next A race attempt. With a special October edition of a twice-postponed Boston marathon directly in front of me, I thought it would be a sound approach to treat Boston as an interim race to re-baseline my open marathon fitness, with the balance of 3 months or so to build from there to Houston.
Boston presented me with a low pressure, not much to lose kind of opportunity as there were only a few weeks to recover after IMWI. Coach Shelly and I decided to go against my usual negative split race plan and instead experiment with a controlled fade, aggressive race strategy. Despite coming off an Ironman the month prior, I felt fairly confident I could better my marathon PR of 2:38 from Chicago 2018. With three years of intervening training and racing, I just had no idea really by how much.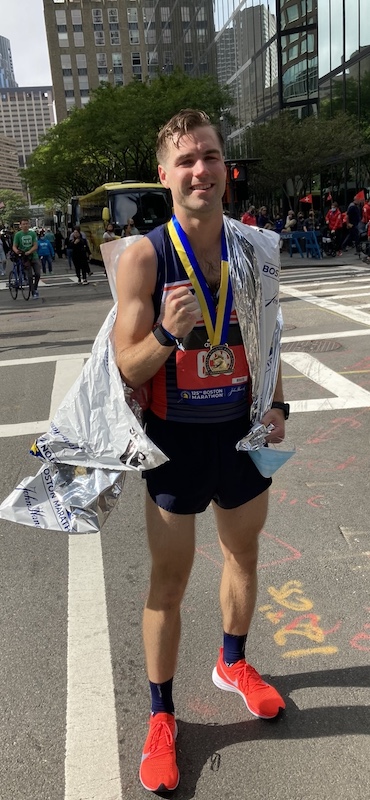 I blasted out of Hopkinton on race day and cruised to a 1:13:25 split for my first half, recording a 2+ minute PR for that distance in the process. I knew it would be a challenge to hold together through the Newton hill series, but having so much time in the bank I figured I could just go into damage control mode when necessary and still run a sizable PR. I didn't fully hit the wall, but certainly started to give some time back and ran a few miles that were above 6:00 pace as I soldiered on to the finish. Not a pretty way to run a 2:32 marathon, but it was nearly a 7 minute PR in the end! It felt amazing to push my absolute limits and survive without completely bonking.
The success in Boston, coupled with the encouragement of fall weather and an abundance of training partners created a deep well of motivation for me to train harder than ever before. Never in my almost 20 years of structured run training have I averaged anywhere close to the 74 miles per week I put in for this 11 week block. In retrospect I think the attention to higher volume while retaining a healthy dose of threshold/marathon pace training paid me large dividends. Coach Shelly dialed up some of the tried and true workouts including a race simulator 3 weeks out in which I held goal marathon pace of 5:37 for 13 miles. Completing that effort solo, without tapering, on the uneven surface of the C&O canal towpath in regular training shoes gave me a nice psychological boost.
This increased volume and intensity correlates to higher risk of injury and burnout of course, so not only was I training more than ever- I was more diligent than ever about recovery protocols. Sleep is number 1, full stop. But doing a lot of little things in the margins: prehab exercises, massage gun/foam rolling, yoga, core work, strength training, etc; can add up to a big impact as well. It is hard to quantify but I do firmly believe the weekly attention to these items contributed to my performance also.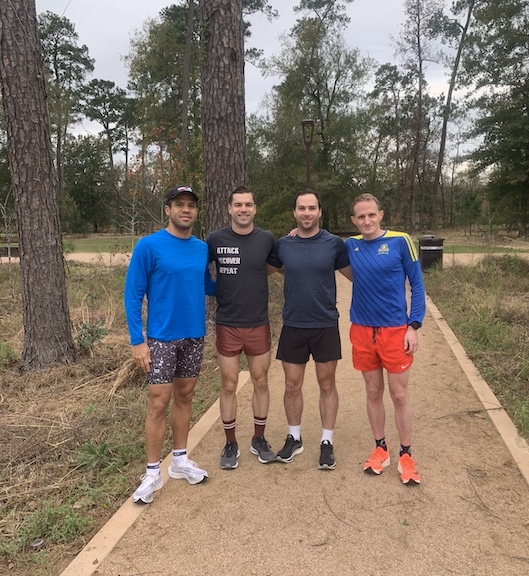 Race Day
My visualization for this race did not include the frenetic start that comes with a combined half and full marathon start in a big race. On the plus side, I found myself in a massive pack to tuck into for the first 8 miles after things settled down.
The very top end of the range in my race plan said 2:25 (5:35 mile pace), and that assumed about as perfect as I could envision the day going. Unlike Boston, I wanted to make sure I gave good effort in the early sections but under control and ideally drafting into a group. I clicked off some splits in the 5:20s within the first 10k that scared me a little, so I forced myself to actively slow at times.
At mile 8 where the courses divide, I thought to myself "now we see who is for real" and all but 2 guys way in front of me went left with the half marathon course! LOL. Luckily this shock and loneliness was short lived, as not more than half a mile later I heard a smattering of footsteps behind me. This turned out to be the most pivotal point in the day. A previous version of myself may have let this pack of guys go, thinking I should race within myself. But with my experience and fitness now, I was ready to sit in with them and at least test out the pace to see if I could hang. The pack turned out to be a godsend, as the group of 10 or so of us held 5:30ish for the next 10 miles and worked hard together. It was amazing to run with so many quality runners, all of us really going for it. It seemed as we had unspoken agreements to help each other and rotate time at the front, etc without many actual words being said.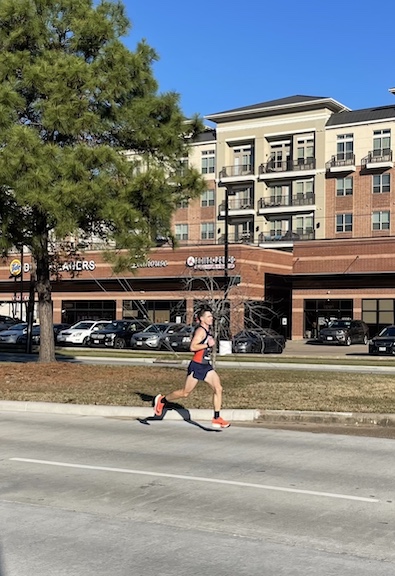 We came through the half in 1:12:57 on my watch, netting a new PR for me and my first time under 1:13. In my race plan, this was right on or slightly faster than I had hoped to be. Despite holding my own within the pack of runners, some doubting thoughts did cross my mind. Did I take it out too fast with them? This feels way too early for lactic to build up, right? Shut up legs, ignore that hamstring twinge! At times I would drop towards the back of the group, but never off the back. Each time, I was able to recenter myself mentally and get back into it. Conversely, there were times I would naturally end up at the front, leading for a mile here or there feeling like it was going to be my day. From this marathon and previous successful races- this mental pendulum means you are pushing the limit. We must flirt with that limit in order to get the most out of ourselves.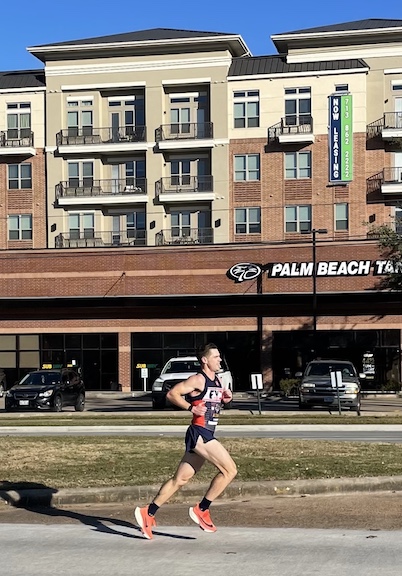 Houston has a well-devised and fast course; however, it is not without many right angle turns and even a U-turn near mile 13! Between these turns and coming through aid stations, the pace group would break up a little and reform tightly not long after. After one such turn near mile 18, it appeared there were some that could not make it back into formation. Quite suddenly I found myself in a much smaller cohort of 4. Two of these runners in particular I had pegged as noticeably stronger earlier on- based on their form, breathing, and smoother movements within the pack. As we got into the last 10k I felt the pace quicken to the low 5:20s and strung us out into a single file line. Unfortunately, I did not feel I had the extra gears to go with these three. I never stopped working, but dropped back slightly to resume a pace that was in the 5:30s. In doing the math I knew I was in for a big PR if I just. kept. moving.
The final 5k was tough, as always. I went through all the mental cues I could think of, at one stretch heeding the advice of a spectator yelling at me to "just breathe man!" Mile 25 saw my slowest split on the day, feeling like I had cinder block shoes on. Didn't matter, I could smell the end from there! When I hit the mile 26 mark, I realized my finish would be very close to sub 2:26 but would require whatever kick I could muster. It seems an arbitrary time milestone but, in those moments, we need any form of motivation we can latch on to. I was ecstatic to see 2:25:58 and realize almost a dead even split as I was 1:12:57 for the first half and 1:13:01 in the second.
Post-Race
There are some races where you feel like you left some on the table, or decisions made that you would go back and change. This was not the case at Houston. For the fitness level I achieved in training and brought to the start line, I could not have asked for much more from this result. It has given me a huge amount of confidence that with even more (smart!) training blocks, faster times are still to come.
I learned and reaffirmed a lot about running, myself, and life over these past few months. The sport of distance running is an incredible teacher. Here are a few of the lessons I can relate:
Running for performance is inherently challenging. This is also why it is awesome.
Marathon success absolutely demands mental fortitude. Mental toughness is a discipline in and of itself, and must be practiced regularly to rely on come race day
Distance running also demands patience. This is a valuable and applicable trait to cultivate not just for the sport's sake, but in an increasingly "gotta have it now" society as well
In the same vein- no great achievements come easy or happen overnight. But this also makes goal attainment that much more gratifying
In undertaking any activity or long-term project- proceed with passion. And remain vigilant on how your relationship to that thing changes over time
Associate yourself with people that are motivated and share a similar positive outlook; our support systems are everything in good times and bad
Teaching others and helping them reach their goals is as rewarding as hitting your own, if not more so
I feel tremendously lucky and grateful to be able to train and race the way I do. I could not be more excited to continue to push the envelope and create all the memories along the way.