Welcome to the Fiv3 Favorites Newsletter! Every month we will share 5 favorites, be it a focus, a book, a podcast, a workout, an insight, and/or a tip to help turn your goals into records!
November is one of our favorite times of the year. We are finishing up preparing a handful of athletes for their late season races, while the others are either deep in the rest and relaxation of downtime post race or are already deep in their off-season blocks creating a foundation for 2022 races. Here are some of the things we've been grooving on including our November focus, which "super shoes" are the fastest, a favorite swim drill and corresponding swim workout, a review of the fantastic 70.3 season of our athlete Jason Albanese, and Coach Shelly's quick book review of a new favorite.
NOVEMBER FOCUS – OFF-SEASON TIMING & GOALS. Let's first define what we mean by the off-season.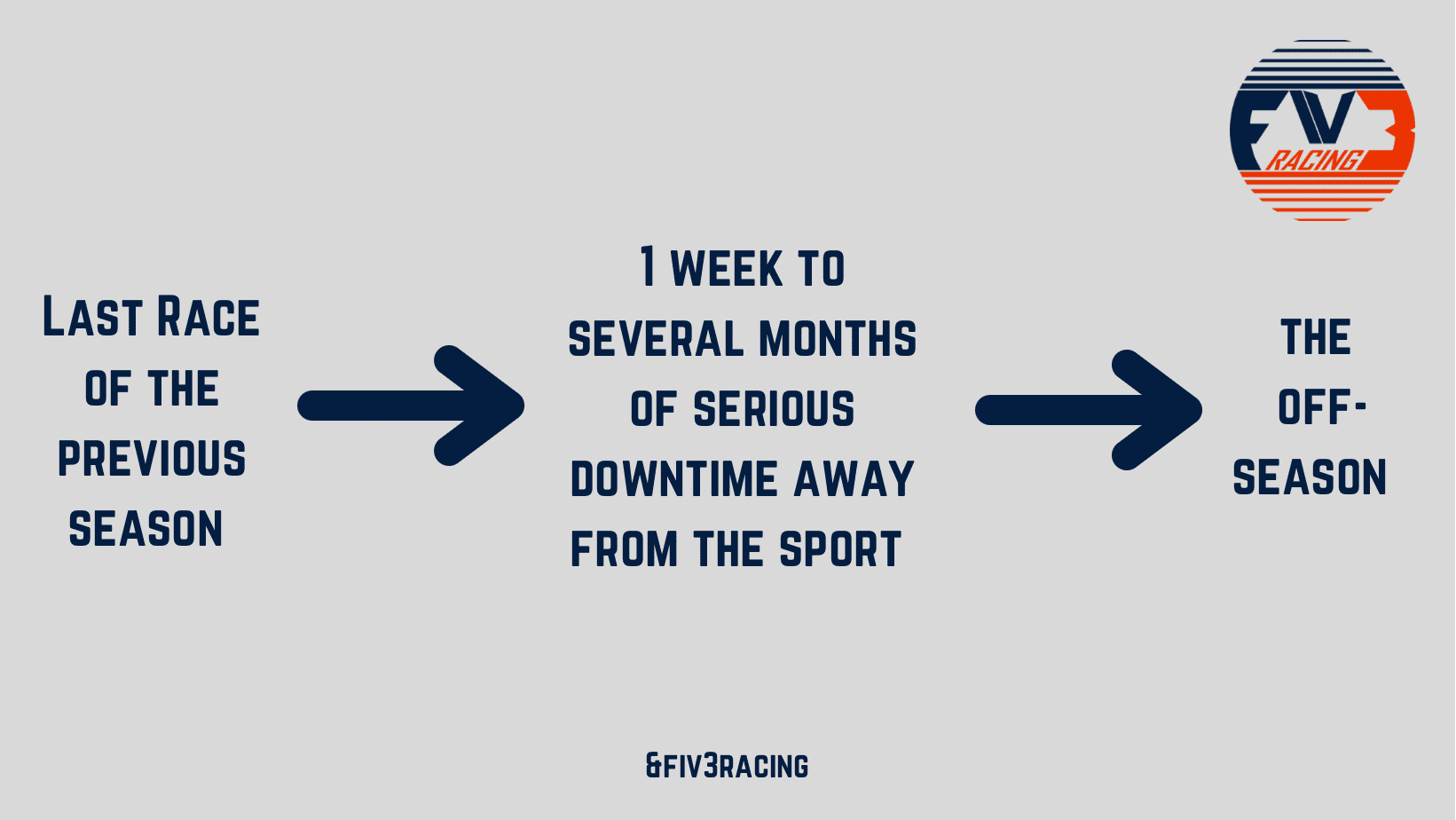 The off-season is that block of your training after you've had a period of serious downtime. How much downtime you need is really up to where you are in your endurance career. If this is your first season of endurance sports, you may only need a week. If you have been pushing hard for several years – a longer break is probably needed. If you took much of 2021 off, less is needed. Also, when is the first goal race of your 2022 season? Earlier, then less break is ok. But, understand DOWNTIME AND AN OFF-SEASON ARE STILL NEEDED.
Some goals of the off-season include consistency, limiter improvement, return or increase of preventative exercise such as strength, yoga, cross-training and a build back up in volume. Also, during this block allow yourself a bit of a mental break, allowing you to catch up on family, work and life.
Let's talk about those goals:
Consistency

. Get some aerobic work in most days of the week. Note the word "aerobic", unless you are specifically working on a limiter – this time should be mostly nice and easy.

Limiter Improvement.

Work on weaknesses without the stress of an important race right around the corner. If you have a swim weakness, double down on your swim frequency. Go all in on one or two sports and make them better. We still have plenty of time to get that 3rd sport back. This could also be a period to work on raising your FTP or building up your run volume to prepare for a spring marathon.

Return or increase of preventative exercise such as strength, yoga or cross-training.

Strength is often hard to fit into the race season. It's often the first thing to get skipped. Let's use this offseason to get strong (or get strong again). Cross-training such as yoga, hiking and other sports are also helpful to create variety in your fitness as well as it makes the athlete more of an all around athlete.

Build back up the volume

. In the seasonality of endurance training, each block is preparing you for the next. While we are working on weaknesses, we are also slowly building up the volume to start to re-build the base of aerobic fitness.
PODCAST. The Performance Advantage Podcast – Ep 87 – Testing the Fastest Running Shoes with Dr Dustin Joubert Which new "super shoe" is the fastest? Dr Joubert conducted the "Super Shoe Study", testing 12 runners using 7 carbon plated shoes and a control shoe (Asics Hyperspeed). The good news is the testing provided a pretty conclusive result of which shoes were the fastest (as measured by running economy at 16 km/hr on two separate visits). The top tier of run economy improvements came from the Nike Vaporfly and Alphafly, as well as the Asics Metaspeed (3.0%-2.5% improvement over the control), the middle tier came from the Saucony Endorphin Pro (1.5%), New Balance Fuel Cell RC Elite (1.4%) and not much improvement from the Brooks Hyperion Elite 2 and Hoka One One Rocket X. If you want to see the whole pre-printed study, here it is: STUDY
Our take: This is pretty interesting stuff, especially as it relates to Age Group triathletes and which shoes make sense to purchase, as the carbon plated shoes tend to have hefty price tags and do not last as long, as well as "could" be more risky from an injury standpoint. There is more to the equation than just speed, also including how you individually perform in them. I (Coach Shelly) personally have the Saucony Endorphin Pros as I have heard they are more durable (seems pretty good so far) and I tend to be a "delicate" runner so I wanted something not so risky. Follow Dr Joubert on instagram @labratrundown as he conducts more studies on which shoes best stand up to the speed improvement claims.
WORKOUT OF THE MONTH. We have two favorite swim drills at Fiv3 Racing and this workout helps you really get some serious practice with one: the 8-kicks-per-side-drill. This drill really helps you work on rotation – as my high school swim coach always said, "the fastest swimmers in the world swim on their sides". Here is a link to a Instagram reel talking all about this drill: REEL and here is the workout:
300 warm-up 6x [200: 50 8 kicks per side 50 5 kicks per side 50 3 kicks per side 50 swim focused on rotation @:30 rest 100: HARD Strong and relaxed, focused on good rotation @:45 rest] 300 pull focused on rotation and triggering rotation from the hips 200 cooldown
The dropping down in the 200s from 8 to 5 to 3 to no kicks per side really gets your rotation on point!
NOVEMBER COACHED ATHLETE HIGHLIGHT – JASON ALBANESE.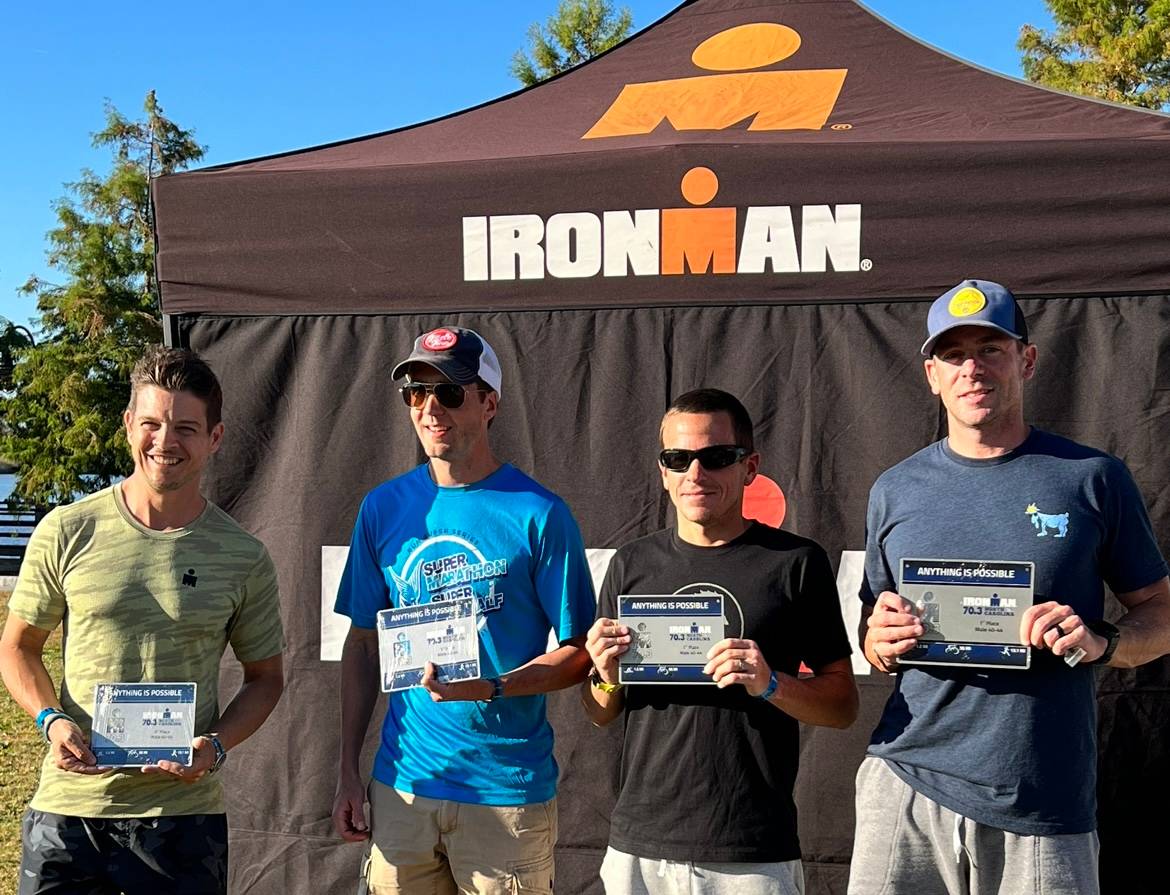 Jason started with Coach Kim in the summer of 2017 after his first Ironman. He's mostly been focused on the 70.3 distance steadily progressing to top 10 AG finisher, then to World Championships qualifier, to AG top 5 podium and most recently to winning his AG in an IM70.3! The last year was a banner one for Jason including:
1. Qualifying for the 70.3 WC through the Ironman VR series when there were no races happening. 2. At IM70.3 Eagleman he finished 3rd AG 3. At the IM70.3 WC in St George he finished in the top 10% of his AG 4. And at IM70.3 NC (pictured, Jason is all the way on the right) he won his AG!
Jason has a demanding job and is very active with his kids sports and activities so we've worked hard to emphasize quality workouts to maximize results. Congrats to Jason on an amazing season!
BOOK. "THE PRACTICE OF GROUNDEDNESS" By Brad Stulberg, reviewed by Coach Shelly. This book has actually taken longer to read than any other book I have read in a very long time. It was so good, including so many good nuggets/quotes/deep thoughts, that I would only read a page or two or three at a time, taking so many notes while I read. The purpose of the book is to share a healthier, more sustainable model for success built on staying grounded. Stulberg describes 6 principles of "Groundedness":
Accept where you are to get where you want to go.

Be present so you can own your attention and energy.

Be patient and you'll get there faster.

Embrace vulnerability to develop genuine strength and confidence.

Build deep community.

Move your body to ground your mind.
There is so much that is helpful to racing, training, productivity, confidence, etc. For our current coached athletes, we will be reading this book in December as part of our re-established off season book club (not mandatory but encouraged :)). As of this newsletter, the book is 40% off on Amazon if you have an interest in getting it!
That's it for this month. Please respond to this email if you have any recommendations for things you want to hear about in future newsletters or if you have any comments or questions!