Race report by  Jason Davidson
Since October 2015 my number one goal in triathlon has been to get back to the Ironman World Championships. When I registered for Ironman Santa Rosa (then Ironman Vineman) I thought I was selecting a course well suited to my strengths with a hilly bike course and the likelihood of hot conditions. When the organizers changed the bike to a much flatter course I decided to roll with it. After all, rolling with twists and turns is part of Ironman racing.
Coach Shelly and I organized the 2017 season around IMSR. I had a marathon PR at the Boston Marathon and a good result at Raleigh 70.3 but otherwise was focused on Ironman training and recovery.
I got a solid block of long riding in during the Blue Ridge Bike Camp and lots of long rides with my Team FeXY teammates. One nice addition to this year's training was having my daughter Elisa follow me on her bike for a few of my long runs. I also had a great simulation day with Kevin, Trey, and Chuck two weeks out.
I went into the taper with really solid run speed and feeling confident in my swim and bike. Coach Shelly told me I was in the best shape of my life and I believed her. That said, I've been around the block enough to know that lots of things can go wrong on race day and sometimes a stacked field shows up and there's nothing you can do about it (if you doubt me on this look up my 2016 70.3 Timberman result).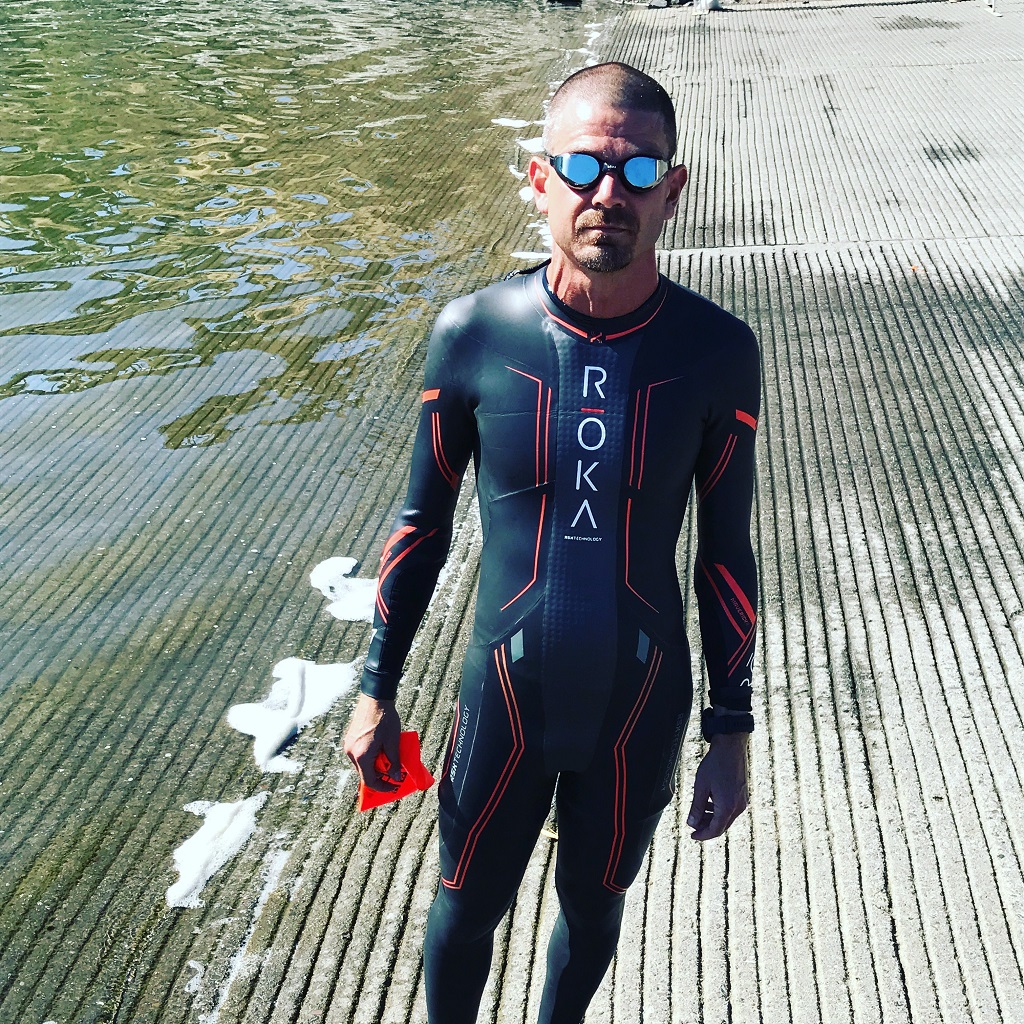 Swim 1:06:39
IMSR features a brand new swim venue, which is roughly forty miles from T2. We stayed near the swim start the night before but I would recommend staying in Santa Rosa and taking the shuttle. All but the most hard core spectators will want to skip the swim because you are stranded at the lake from 5am until 9am when the shuttle buses and roads open up.
In the days prior to the race the water temperature had been hovering around wetsuit legal and on raceday it was .1 degree under the cutoff, so this race very well could be a non-wetsuit swim next year.
I went to bed at 8 on Friday evening and got up at 3:30 on race morning (having worked to stay on East Coast time since arriving in California it really didn't feel too bad). I had my pre-race Henry Hudson Granola and triple espresso and was ready to hit the road. Alessia dropped me off at the swim start and the pre-race prep activities all went like clockwork.
I lined up near the end of the 1 hour sign group (just ahead of the 1:10 group). I ease into my Ironman swims so I don't want faster swimmers behind me. I started very relaxed and built to a nice effort. The first of the two loop swim was pretty uneventful until about 2/3rds through when the sun came up over a ridge facing us and blasted us in the eyes. I was very lucky I had chosen mirrored goggles and that I had practiced swimming in the venue and knew I could sight off the bridge overhead if I couldn't see the buoys. By the start of the second loop there were lots of very slow swimmers and that really slowed me down. I don't like to blast through/over struggling swimmers but it means I end up swimming around them, which I know is slower. I felt good during the swim and was a bit bummed with my time (a few minutes slower than my PR) but I knew it was a long day and to focus on what I could do from that point on.
T1 7:05
I bet you just read that time and thought "Damn, JD needs to work on his transitions!" While that may be true, T1 at IMSR starts with a .25 mile run up a super steep boat ramp. I slow ran to keep the heart rate from jacking. I downed a Glukos energy shot while running to my bike and was off.
Bike 5:07:57 (21.8 mph)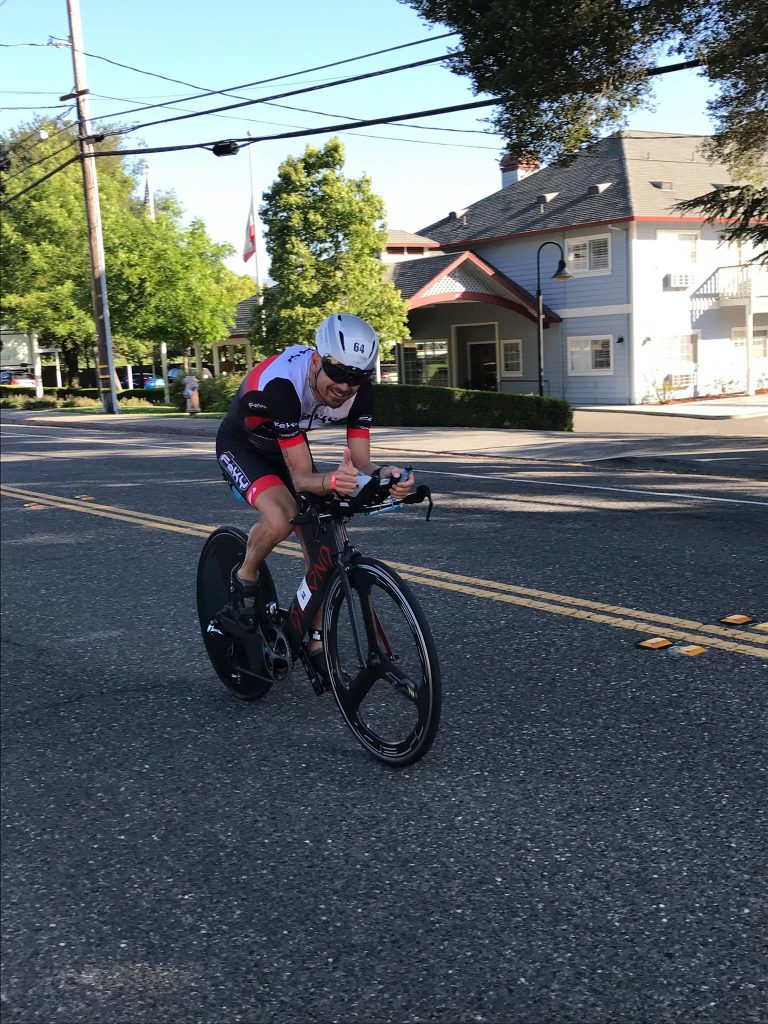 The IMSR bike course is flatter than Vineman but it is definitely not all flat. It starts with a really fun descent and a nice climb and the rest of the race has some rollers and fun corners mixed with flat sections. The bike course also includes some stunning wine country scenery. That said, the course is not as beautiful as IMLP or even IMCDA because it also has some pretty ugly stretches too. The worst thing about the bike course by far are the stretches of absolutely terrible pavement. None of the sections are super long but they are definitely dangerous. Some of the roads had large cracks and potholes several inches deep. I had pre-ridden/drove the course so I knew what to expect but I slowed down on those sections and paid careful attention to the pavement as well my fellow competitors.
In the past I've used homemade rice cakes for the first two hours of IM bike segments but this time I decided I'd switch to Picky Bars for that part of the race. They are still "real food" but more digestible and don't require the effort to make them one/two days before. I alternated Picky Bars with sweeter Glukos Energy Bars for the first 3:15 of the bike. I started with a Torpedo bottle full of Propel and a bottle full of Gatorade (having left my Glukos drink at home!). I took in a Salt Stick tab an hour as well.
The first half of the bike I was right on target with Normalized Power of 77% FTP (for me 186w). The second half of the bike the watts fell off just a bit with the flatter/slight downhill and rough pavement sections of the course rearing their heads. I didn't worry about the watts though as I knew my speed was good and I was feeling great. Coach Shelly and I had said I'd ride the bike mostly on feel and I did. The course was fast (and maybe a bit short) but it yielded an almost twenty minute IM bike PR for me.
T2 5:34
OK, now you really can give me a hard time for a slow transition, although most of those 5' were spent in a port-a-potty….
Run 3:15:54 (7:29 pace)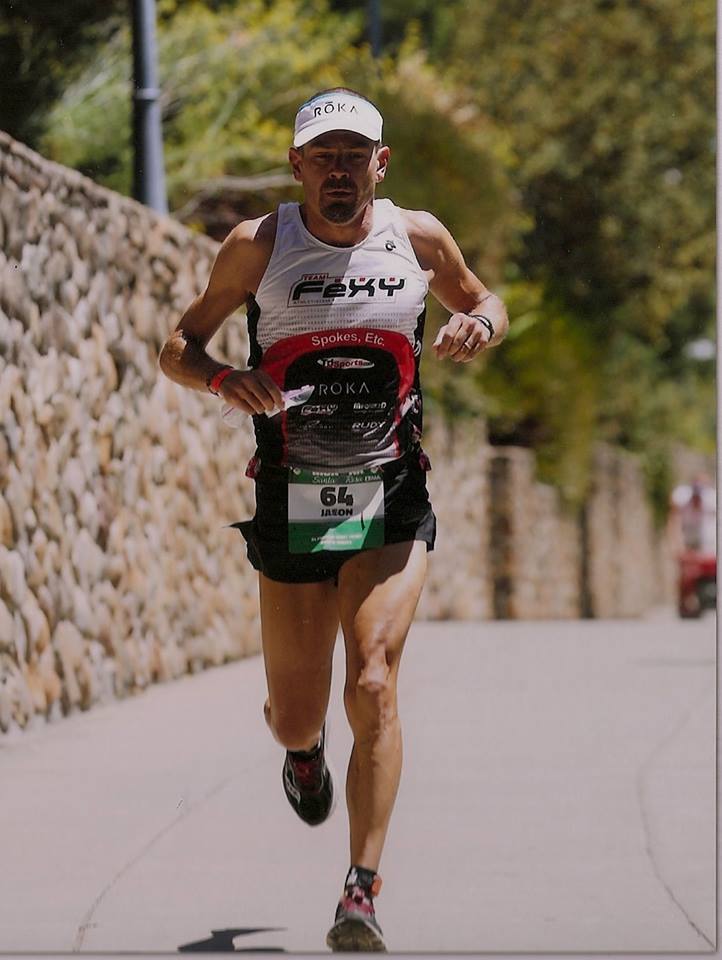 What an awesome sight to come out of T2 and see Alessia and the girls there cheering me on! After a post-simulation talk with Kevin (aka Demigod of the IM run) and follow-up with Shelly I decided to run the marathon on feel. The run has turned into my strongest leg so the plan was to set a comfortable pace and then just try to hang on.
The first loop of the three-loop run course was pretty desolate. There are lots of aid stations but very few spectators away from T2/the finish line. I focused on the effort and on staying cool (I had a Ziploc baggy and filled it with ice at every station, using it to keep my hands cool and to pour the cold water over my head between stops).
By the end of the first loop Alessia and the girls told me I was in 7th (I had moved up from 11th off the bike). I was still feeling really good and was already seeing people break down. The high was in the low 80s but there were stretches with no wind in the sun that felt hotter than that. I ran the first 9 miles at a 6:57 pace but didn't look at my pace (or heart rate) after the first 5 miles. After that I just used my watch to judge when it was time to take in another gel.
I maintained my effort and still felt really good on the second loop as the course filled up with more athletes. I had taken a Base salt sleeve at the start of the run and used that (two/three licks every two miles) during the entire run. I find that the salt stick tabs are hard to keep dry and to swallow while running. I also like tasting salt in my mouth as a counter to the sweet of the gels and Gatorade.
As I finished the second loop and started the third, Alessia and the girls said I was in fifth (apparently I had already moved into fourth). Through 18 miles I had averaged 7:05 pace, which I'm quite happy with.
On the third loop I knew I was slowing down (again not looking at my watch but looking back I was running roughly 8 minute miles) but I was pretty confident others were slowing down more. By now there were so many competitors on the course it was really difficult to keep track of who I was passing but I felt confident fifth was the worst I would do. This is the part of the race when I think about everyone who supports me—friends, family, teammates and draw strength from that. I also saw FeXY teammate Pete Thomas on the course a few times. It was great to see someone so positive in his first Ironman.
With about two miles to go I saw Scott Baldwin who told me that I was in 3rd place and that I had a good cushion. I knew that if 2nd place was within reach he would have told me so at that point I just focused on maintaining the effort and on my form. I had done lots of course recon but had somehow not realized that you end the third loop near the finish line but then have a little .75 mile or so section before you actually cross it! Fortunately, that section passed briefly and I crossed the finish line with a twenty-plus minute Ironman PR. I also ran the fastest run split in my age group and a roughly 15 minute run PR.
Total: 9:43:07 (3rd  Men 40-44, 27th overall)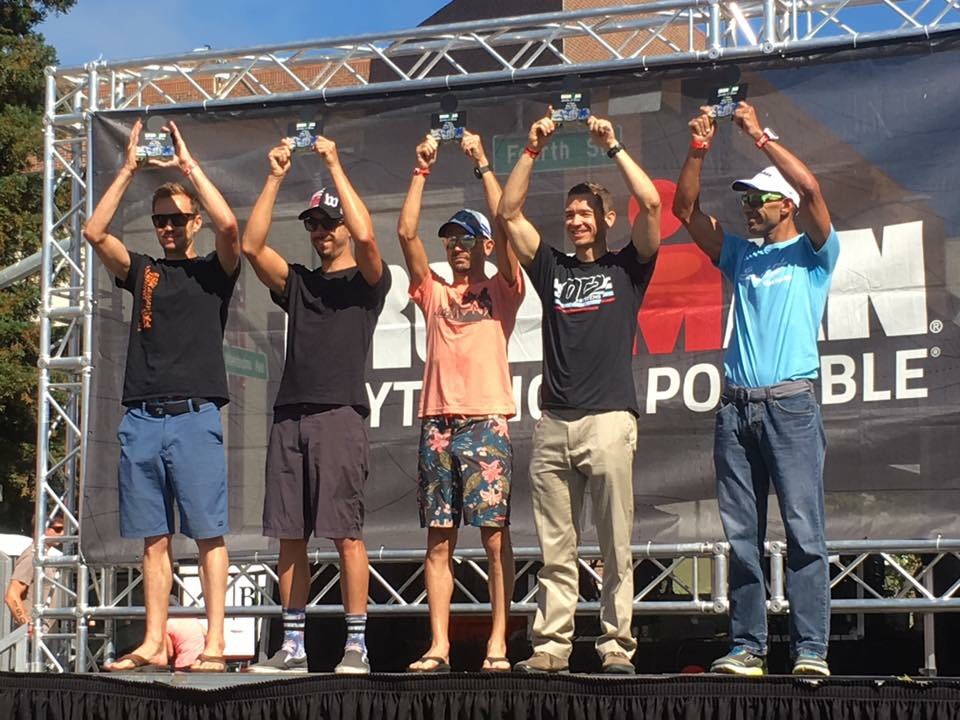 This was my fourth Ironman and it was by far the smoothest of all the races I've done. Some of that comes down to training, experience, and preparation but some of it is always out of the athlete's control. I feel very fortunate that I didn't have any bad luck roll my way (e.g., the nasty stomach virus I got the day after the race!) and that the competition was not as stacked as it can be these days. More than anything I feel incredibly excited and proud to be able to make that trip back to Hawaii in October.